>  Products > Roll Forming Machine > Channel(purlin) for building
Channel(purlin) for building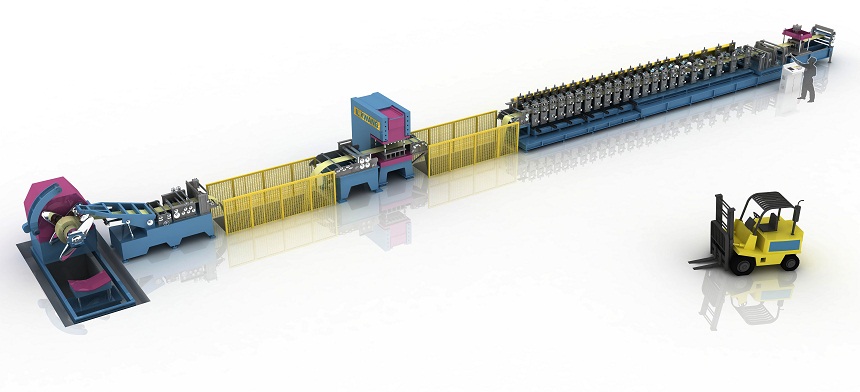 This Roll forming machine for channel(purlin) is manufactured based on the world's top technology and experiences, and Roll forming machine for channel(purlin) has high durability and convenient management. It exquisitely designs diverse wave forms to meet customers' requirement, and produces continuously and conveniently world's top purlin products of C. Z., Omega (Rack), Sigma shape as well as guardrails for road.
Roll forming machine for channel(purlin) consists of Un-coiler that inputs and releases coil, Pinch Roll & Leveling System that exquisitely inputs coil, N.C Feeder & Punching Unit that punches and notches the input coil precisely, Roll Forming Unit that makes shape through Multi-stage Forming Roll, and Shearing Unit that cuts fabricated C & Z panel.
1.
Raw Material:Cold Roll Forming Machine
2.
Coil Thickness
:
1.5 ~ 4.0mm (±0.02)
:
ASTM A 653M Grade SS 340 Class 1
:
Yield strength 345Mpa for HR, CR, Galvanized
3.
Coil Width
:
180 ~ 500mm
4.
Producing line speed
:
Max. 25Meter / min
( In case of longer than 5 meter length product With confirmed punching pattern by buyer and seller)
Speed control
:
Frequency control
5.
Electric power source
:
380V x 50Hz x 3Ph (Buyer's option)
Control voltage
:
According to customer's specification
Total power
:
80Kw
6.
Product
Width
:
+/- 1mm
Length Tol.
:
+/- 1mm
Twist  Tol.
:
+/- 2mm at middle for 7meter
Angle Tol.
:
+/- 1.5 degree at 300mm from end of profile
Flare Tol.
:
+/- 1.5 degree at 300mm from end of profile
Minimum length
:
1500mm ( In case of shorter than 1.5meter, it should be taken out manually in slow speed.)
Maximum
:
12,000mm
Pinch Roll & Leveling System
The device stably supplies steel coil fed from Un-coiler to Punching System, inputting it to the equipment and leveling precisely.
To control the elasticity and get loosing of coil there is coil opener has installed and as well as the leveling unit to ensure the flatness. And consists the front shearing unit operating by hydraulic to help the replacing the coil and products.
N.C.Feeder & Punching Unit
It precisely punches and notches to the input coil, and punches and notches various exquisite and functional structures required by C&Z purlin material.
In order to satisfying with various notching pattern and helping for mass production the automatic control system for precision punching unit has developed.
It provides aesthetic shape through multi-stage forming roll and microwave forming roll, and in case of choosing Cassette Type or Double Layer Type, more diverse shapes like U-bar, Track can be formed at single equipment.
In addition, an automatic width adjusting system has applied for produce a variety of products by changing the width and height.
Profiles: Roll forming machine for channel(purlin)

Coil width : 600~900mm
Product width : 220~300mm
Coil thickness : 1.6~2.5mm

Coil width : 250~500mm
Product width : 120~300mm
Coil thickness : 1.2~3.2mm

Coil width : 250~500mm
Product width : 120~300mm
Coil thickness : 1.2~3.2mm