>  Products > Roll Forming Machine > Deck Plate
Deck Plate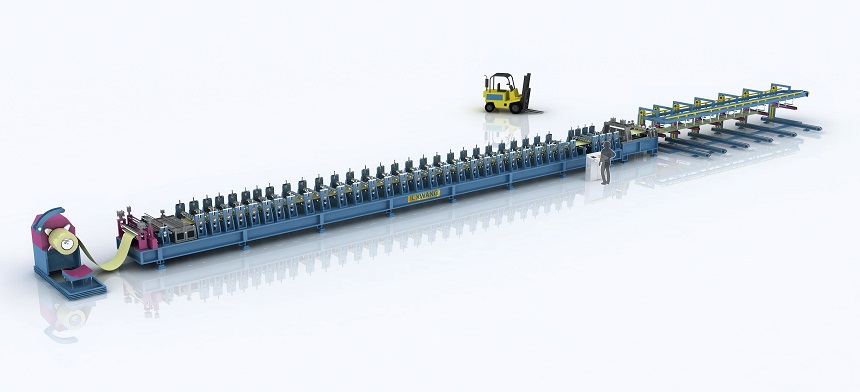 This Roll forming machine for deck plate is manufactured based on the world's top technology and experiences, and the Roll forming machine for deck plate is equipped with high durability and convenient management. Deck plate panels produced by the equipment are using the steel coils (0.8 ~ 1.6mm Thickness) and efficient for the reinforcement of strength during placing concrete, providing with embossed shape to prevent detachment from concrete.
Roll forming machine for deck plate consists of Un-coiler that inputs and releases coil, Pinch Roll Unit that exquisitely inputs coil, Roll Forming Unit that forms the required shape and embossing through multi-stage forming roll, Shearing Unit that cuts fabricated deck plate panel, and Auto Stacking Unit that loads completely cut deck plate panels.
1.
Raw Material
:
Pre-painted galvanized steel sheet. ASTM A 526 / JIS G 3302 SGCC, Tensile strength 220 ~ 350MPA or other same class of soft material.
Coil Thickness
:
0.75 ~ 1.5mm for TR150/280mm
:
0.6 ~1.0mm for deck 55/158mm
Coil Width
:
According to required profile type
2.
Producing line speed
Line speed
:
Max.15m/min
( In case of longer than 5 meter )
For higher speed, it is available with option.
Speed control
:
Frequency control by inverter
3.
Electric power source
Commercial voltage
:
According to customer's specification
Total power
:
40Kw
Pinch Roll & Leveling System
The device stably supplies steel coil fed from Un-coiler to Punching System, inputting it to the equipment and leveling precisely.
To control the elasticity and get loosing of coil there is coil opener has installed and as well as the leveling unit to ensure the flatness. And consists the front shearing unit operating by hydraulic to help the replacing the coil and products.
It provides aesthetic shape through multi-stage forming roll and microwave forming roll, and in case of choosing Cassette Type or Double Layer Type, more diverse shapes can be formed at single equipment.
In addition, to prevent the abrasion and deformation on to the surface of the roller, it has been designed through the heat treatment and chrome plating process.
Roller bearing equipped with an inner diameter, the durability of the equipment is maximized in order to distribute the load generated on the surface of the roller shaft.
Cap-deck deck forming machine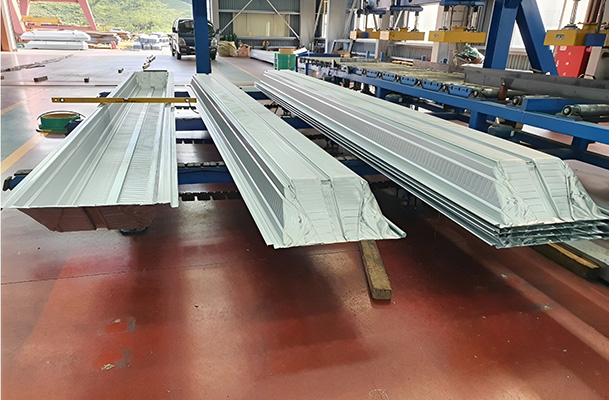 The cap-deck deck forming machine line is the first machine developed to enable continuous production of cap deck products in Korea. This line consists of un-coiler, roll former, shearing / hunching unit, auto stacker.
Deep deck (called hunched cap-deck) is applied for various type of large size of buildings and construction (ex. office building, parking lot underground apartment, factories etc.) by various methods for a long-span one-way floor deck structure. It is an innovative product that realizes 20% reduction in construction cost, 40% reduction in construction period, and 20% reduction in floor height. ( With supporting post – 12meter span available / without supporting post – 8.4meter span available )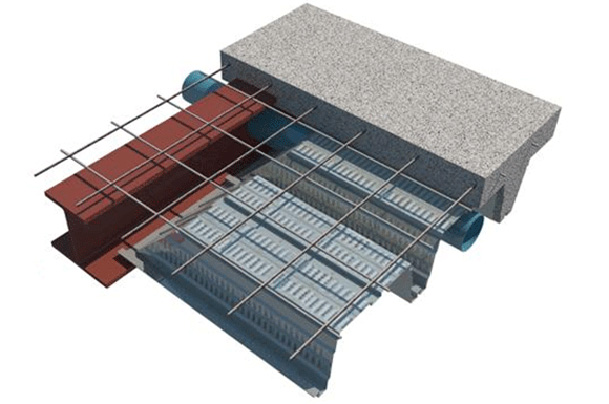 Profiles: Roll forming machine for deck plate

Coil width : 1219mm
Coil thickness : 0.6~1.2mm
Finished width : 900mm
Pitch : 241mm
Depth : 55mm

Coil width : 1500mm
Coil thickness : 0.6~1.2mm
Finished width : 1060mm
Pitch : 245mm
Depth : 82mm

Coil width : 1250mm
Coil thickness : 0.7~1.3mm
Finished width : 632mm
Pitch : 158mm
Depth : 55mm