>  Products > Roll Forming Machine > FRAMECAD
FRAMECAD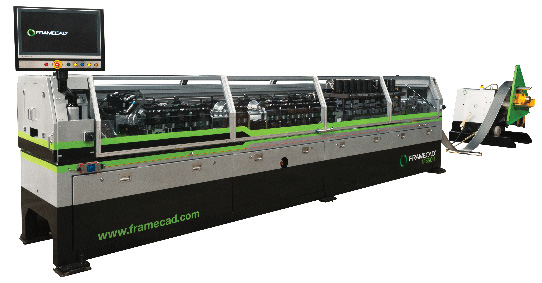 Il Kwang is proud to be associated with FRAMECAD and being able to offer the FRAMECAD solution as a long trusted and respected agent.
FRAMECAD is the world's most advanced end-to-end cold formed steel engineering design-and-build system. FRAMECAD gives you the technical tools to accelerate the construction process, increase productivity, accuracy and reduce labor costs.
The FRAMECAD solution comprises a world leading combination of:
Design and engineering software which integrates design, engineering calculations, structural analysis, detailing and roll-forming machine control. Providing extreme accuracy and efficiencies in the construction process, reducing costs of engineering, design, waste and labor.
FRAMECAD equipment which improves operational efficiencies and cold formed steel precision with the technologically advanced roll-forming equipment from FRAMECAD. The world's most efficient design and manufacturing technology for cold formed steel, FRAMECAD equipment utilizes a specialized servo-drive motor combined with a world-leading encoder system, creating punches, cuts and chamfers with less than 0.01mm tolerance.
MyFRAMECAD is a cloud-based customer portal designed to assist your business management and improve your cold formed steel design and production.
Support services which provide the knowledge and support to empower our customers to get the very best from their FRAMECAD System. FRAMECAD's training, customer care, commissioning and scheduled servicing programs are developed to maintain productivity and return on investment for your business.
To find out more about what the FRAMECAD solution can do for you contact us at info@steelformer.com