>  Products > Sandwich Panel Production Line > Mineral wool sandwich panel(Continuous)
Mineral wool sandwich panel (Continuous)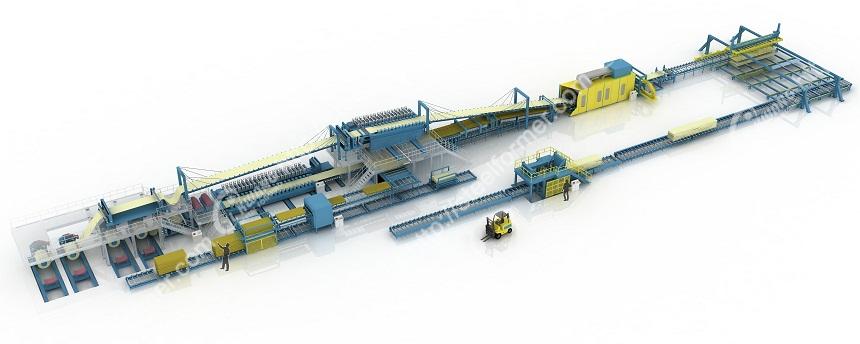 Mineral Wool or Glass Wool is the material that has outstanding insulation effect (EN13501, A2-S1, d0 / The European Standards) and excellent fire resistance, and our Mineral Wool Sandwich Panel Producing Equipment, using it as insulator, is the automation equipment that can continuously and efficiently produce mineral wool and glass wool sandwich panels of exquisite and diverse shapes.
This equipment has the advantages such as high durability, easy management, technology equivalent to those of advanced European companies and relatively competitive price, and it is the excellent facility that has been exported to Europe, Asia, Middle East, Russia and so forth as well as domestic market and is well received from customers.
The Mineral wool panel has a low thermal conductivity and excellent insulating effect and uses to the fireproof building, sound absorption, thermal insulation, as well as various plants and widely used materials ranging from insulation, the heat insulation, thermal insulation and agricultural.
Mineral Wool Sandwich Panel Production Line consists of Un-coiler that inputs and releases coil, Roll Forming Unit that makes shape of coil, Mineral Wool Supplying System that inputs mineral wool board and properly cutting/processing it, Glue Applying System that applies bond to attach steel plate and mineral wool, Laminating Unit that makes the shape of sandwich panel, Panel Cutting Unit that cuts the fabricated sandwich panel, Auto Stacking Unit that loads the finished panels, and Panel Packing Unit that packs the loaded panels with plastic wrap and discharge them.
Un-coiler is a device that inputs steel coil to the upper and lower parts of sandwich panel to feed it stably. The mandrel type operated automatically by a hydraulic and it's convenient to control and sophisticated. 2+2 system production equipment unit doesn't need to stop to load the new coil set, which it helps to continue to produce high capacity of panels.
It is a device that continuously gives shape to sandwich panel as steel coil fed from Un-coiler is engaged between the upper and lower sections of a metal roller. Usually it makes the beautiful and delicate shape of variety wall and roof type panel. It designed in cassette type and rail way wheel type to easily change to make different shapes.
Mineral wool supplying system#2 : Board side trimming & Auto pad supplying system

Mineral Wool Supplying System #2 consists of Side Trimmer, In-feed Conveyor and Auto Pad Supplying Unit/Option, adequately processing the supplied mineral wool or glass wool material, and supplies it to the equipment continuously.
It is a device applying glue, having a couple of types such as Mixing type and Spray type. Mixing type is widely used throughout the world, as it is relatively inexpensive and durable. Spray type can save the discharge and application quantity of glue, while the price is somewhat higher.
It is a device that makes the shape of sandwich panel applying constant pressure and heat to the upper and lower steel plates where glue is applied. Acquired patent applications (Patent No. 0,304,450) a rubber roller system laminating unit has low power consumption and inexpensive compared to the double belt conveyor system and the flatness of the product remains good.
<Specification : sandwich panel line>
1.
Production line speed (As it is 25 ~ 35℃)
:
Frequency control
In case of longer than 3 meter
Mineral wool 50mm
:
Max. 8 m/min
Mineral wool 75mm
:
Max. 8 m/min
Mineral wool 100mm
:
Max. 7 m/min
Mineral wool 150mm
:
Max. 4.5 m/min
EPS 50mm
:
Max. 10 m/min
EPS 75mm
:
Max. 10 m/min
EPS 100mm
:
Max. 10 m/min
EPS 150mm
:
Max. 7 m/min
2.
Product width of Wall
:
1000 mm (with 1070mm / 1070mm)
Product width of Roof
:
1000 mm (with 1250mm / 1070mm)
3.
Product thickness
:
50~ 250 mm
4.
Product length
:
Minimum 2,000mm in auto mode
5.
Electric power source
Commercial voltage
:
According to customer's specification
Total power
:
200Kw
Control Voltage
:
User's Option (ex : D.C24V, D.C12V, A.C220V….)
Profiles: Mineral wool sandwich panel production line (Continuous)

Coil width : 1219/1070mm
Product width : 1000mm
Panel thickness : 50, 75, 100, 125mm
Coil thickness : 0.4~0.7mm
Depth of Roof : 35mm

Coil width : 1070/1070mm
Product width : 1000mm
Panel thickness : 50, 75, 100, 125mm
Coil thickness : 0.4~0.7mm

Coil width : 1219/1070mm
Product width : 1000mm
Panel thickness : 50, 75, 100, 125mm
Coil thickness : 0.4~0.7mm

Coil width : 1219/1070mm
Product width : 1000mm
Panel thickness : 50, 75, 100, 125mm
Coil thickness : 0.4~0.7mm

Coil width : 1205/1070mm
Product width : 1000mm
Panel thickness : 40~200mm
Coil thickness : 0.4~0.7mm
Depth of Roof : 35mm

Coil width : 1070/1070mm
Product width : 1000mm
Panel thickness : 40~200mm
Coil thickness : 0.4~0.7mm

Coil width : 1219/1070mm
Product width : 1000mm
Panel thickness : 40~200mm
Coil thickness : 0.4~0.7mm

Coil width : 1219/1070mm
Product width : 1000mm
Panel thickness : 40~200mm
Coil thickness : 0.4~0.7mm