>  Products > Sandwich Panel Production Line > Polyurethane sandwich panel (Hot-press)
Polyurethane sandwich panel (Hot-press)
Discontinuous Polyurethane sandwich panel production line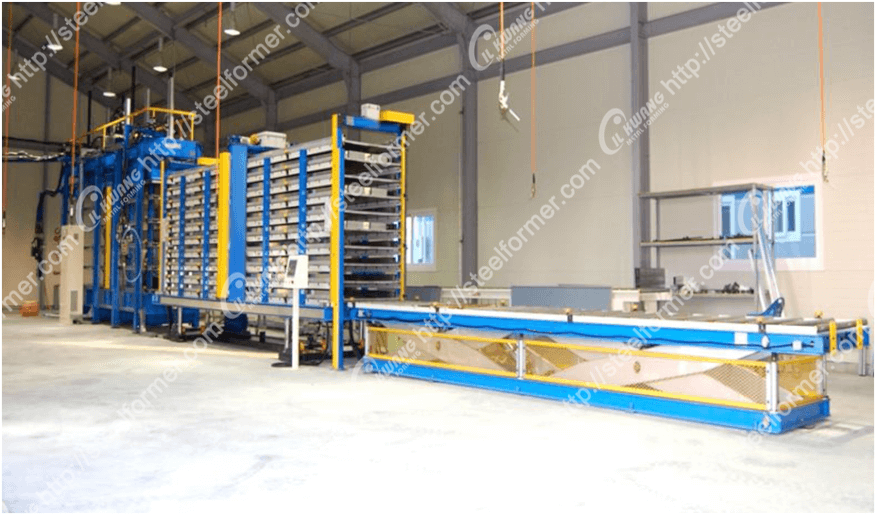 Our discontinuous Polyurethane Sandwich Panel Production Line is the semi-automatic equipment that can continuously and efficiently produce polyurethane sandwich panels of exquisite and diverse shapes. This equipment has the advantages such as high durability, easy management, technology equivalent to those of advanced European companies and relatively competitive price, and it is the excellent facility that has been exported to Europe, Asia, Middle East, Russia and so forth as well as domestic market and is well received from customers.
Discontinuous PU sandwich production line is divided into hot press part and roll forming part.
The roll forming part which manufacturing the upper and lower part by using steel sheet and hot press part is to be used by discharging the polyurethane foam.
Polyurethane Sandwich Panel Production Line consists of Un-coiler that inputs and releases coil, Roll Forming Unit that makes shape of coil, Rail Moving system and Cassette system to changing the shape of molded steel, Sheet cutting unit that cuts the steel
The Hot press part has designed and made with heavy duty steel structure and H beam. The Hot press part drives the body by a hydraulic cylinder and consist the Mixing Head Traverse to equally discharge the PU foam, a Heating table to facilitate the foaming.
Hot press divided into multi-stage method and 2+2 system method by responds to the needs of the user.
New Press System
Type : Vertical Working Flow with 1 set of Assembling Table Conveyor
Features :
1. Simple Working Flow & Space achieve the Simple Working Flow.
2. Vertical Transferring System performs a Faster Production Speed.
Multi Hot Press
MODEL
DIMENSION(MM)
WEIGHT(KG)
ELECTRIC REQUIREMENT
TEMPERATURE
PAD
HD1200
HD1500
HD2400
W1200×7200×2540× Layers
W1500×7200×2540× Layers
W2400×3050×3165× Layers
25000
28000
21000
52Kw
58Kw
37Kw
0~100℃(adjustable)
0~100℃(adjustable)
0~100℃(adjustable)
AL12T(5083)
AL12T(5083)
AL12T(5083)
Transportation Conveyor
MODEL
DIMENSION(MM)
WEIGHT(KG)
ELECTRIC REQUIREMENT
HD1200
HD1500
HD2400
W1200×7200×2540× Layers
W1500×7200×2540× Layers
Not Recommended for Lower Project Cost
12000
16000
–
8Kw
11Kw
–
Assembling Conveyor
MODEL
DIMENSION(MM)
WEIGHT(KG)
ELECTRIC REQUIREMENT
HD1200
HD1500
HD2400
W1200×7200×600 ~ 2100
W1500×7200×600 ~ 2100
W2400×3050×900 ~ 1400
12000
16000
21000
52Kw
58Kw
37Kw
Hydraulic Multi Hot Press
Drive : Hydraulic Cylinder
Frame : Steel Channel, H Beam, Steel Plate
PAD : Aluminum Pad, AL5083, 12T
PU Mixing Head Traverse
Drive : Cable Chain with 2 sets of AC motor
Minute Movement available according to PU Foaming Reaction