>  Products > Roll Forming Machine > Roof tile sheet
Roof tile sheet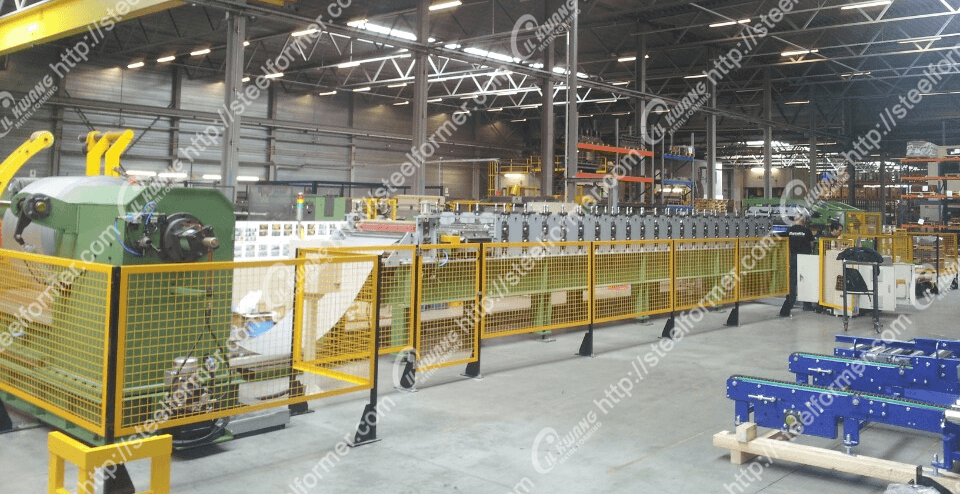 This Roll forming machine for roof tile is a world-class production technology and the experience of a high durability and simply controlled to produce the products. The facility can produce all different and variety designed waveforms based in the best quality.
The Roll forming machine for roof tile, is also can produce a variety of elegant and sophisticated style, metal tile panels and metal shingle tiles, molded panel lines and raised the efficiency of the equipment and to produce normal metal tile roof panels as well as panels.
Un-coiler that inputs and releases coil, Roll Forming Unit that makes shape of coil, and Shearing Unit that cuts the fabricated roof panel, Drawing Unit applying steps to products at the constant depth is adopted. Auto Stacking Unit is a device that loads the completed roof tile sheets after cutting properly, and it can discharge products in various ways after loading.
The unit applies steps at the constant depth to products that forming has been completed, and scratch does not occur on products at drawing as rigidly finished blade material is used.
And a shearing unit, the device to cut fabricated roof panel, cutting precisely the wave form derived from Roll Forming Unit to the required length and discharge. Various ways can be applied, depending on the required output.
Profiles: Roll forming machine for roof tile sheet

Coil width : 1200mm
Coil thickness : 0.5mm
Finished width : 925mm
Pitch : 185mm
Depth : 27mm

Coil width : 1200mm
Coil thickness : 0.4~0.7mm
Finished width : 1000mm
Pitch :167mm
Depth : 40mm

Coil width : 1200mm
Coil thickness : 0.4~0.7mm
Finished width : 1000mm
Pitch : 200mm
Depth : 30mm